On Large Cooperative Wireless Network Modeling through a Stochastic Geometry Approach.
Modélisation de Réseaux sans Fils de Grandes Dimensions à l'aide de la Géométrie Stochastique
The main goal of this work is to study cooperative aspects of large wireless networks from the perspective of stochastic geometry. This allows the consideration of important effects such as the random spatial distribution of nodes, as well as the effects of interference and interference correlation at receivers, which are not possible when a single link is considered in isolation.First, some aspects of the performance of the relay channel in the context of a large wireless network are considered. Mainly, the performance, in terms of outage probability (OP), of a single full-duplex relay channel utilizing decode-and-forward (DF) or compress-and-forward, when the interference is generated by uniform spatial deployment of nodes, modeled as a Poisson point process. The OP performance of these two protocols is compared with a point-to-point transmission and with a half-duplex DF protocol. Afterwards, the case in which more than one transmitter in the network may use a relay is considered. The effects of cooperation versus interference are studied, when the users use either full-duplex DF, or point-to-point transmissions. In a second phase, this work explores the advantages that could be obtained through out-of-band device-to-device (D2D) video file exchanges in cellular networks. These advantages are measured in terms of the fraction of requests that can be served in a time-block through D2D, thus avoiding a downlink file transfer from the base station. For this, a stochastic geometry framework is introduced, in which the user file-caching policy, user pairing strategy, and link quality and scheduling issues are considered.
L'objectif de cette thèse est d'étudier certains aspects des réseaux coopératifs sans fils à l'aide de la géométrie stochastique. Ça permets de considérer la distribution spatiale aléatoire des utilisateurs et les effets adverses de leur interaction, comme l'interférence.Nous étudions la performance, évaluée par la probabilité d'outage, atteignable dans un canal de relai full-duplex quand les nœuds opèrent dans un grand réseau sans fils où les émetteurs interférants sont modelés avec un processus ponctuel de Poisson homogène. Nous trouvons la probabilité d'outage des protocoles décodez-et-renvoyez (decode-and-forward, DF), et comprimez-et-renvoyez (compress-and-forward) et nous faisons une comparaison avec une transmission point à point et un protocole DF half-duplex. Ensuite, nous étudions une situation plus générale dans laquelle les émetteurs qui causent l'interférence peuvent aussi utiliser un relai ou faire des transmissions point à point. Nous étudions la relation entre les avantages de la cooperation et l'interférence qu'elle même génère.Dans la deuxième partie nous étudions la performance des stratégies de partage de vidéos par communications entre dispositifs mobiles (device-to-device, D2D) hors de la bande des communications cellulaires. Nous étudions la fraction des demandes de vidéos qui peuvent être satisfaites par D2D, c'est-à-dire, par le biais des émissions locales, plutôt que par la station de base. Pour étudier ce problème, nous introduisons un modèle de processus ponctuel, qui considère la stratégie de stockage dans les utilisateurs, le problème de comment lier les utilisateurs et les problèmes de la transmission et coordination entre les utilisateurs.
Fichier principal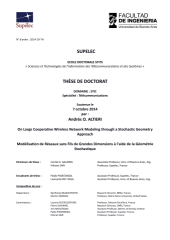 ALTIERI_Andres_Thesis-Altieri-NO_HyperlinksV3_VF.pdf (1.58 Mo)
Télécharger le fichier
Origin : Version validated by the jury (STAR)